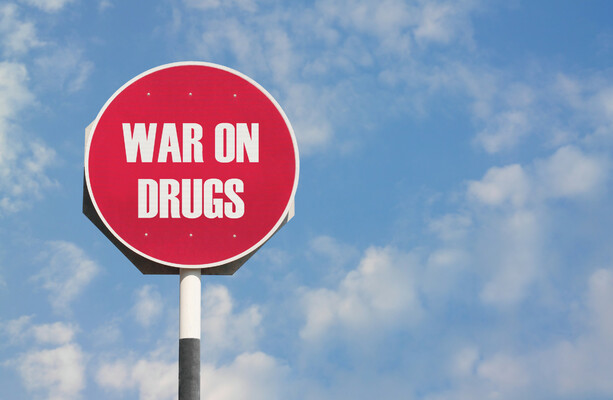 Most of the young people involved in street trading are among our most vulnerable citizens
LAST WEEK I and over 100 youth workers and prominent politicians signed a letter calling for an end to Ireland's drug ban.
The campaign, launched by Youth Workers Against Prohibition (YWAP), was born out of our frustration that the young people we work with being exploited by a drug trade which we believe should be regulated and run by the state.
For too long, An Garda Síochána has been called upon to shoulder the burden of ending the war on drugs. While we respectfully disagree with AGS's current policy, it is understandable.
The community called for a response to anti-social behavior and open street selling. The Gardaí are not an advocacy group or an instrument of political reform. It is their role to uphold the law and in the current system drugs are illegal.
Who is the "war on drugs" for?

The "war on drugs" is impossible to win and a new approach is needed. The National Drug Strategy (2017) calls for a health-focused response to the drug problem.
Putting health at the center of drug policy requires an end to prohibition. By no longer focusing on an impossible-to-win war, Gardaí could focus on other areas: burglaries, domestic violence, bicycle thefts, online fraud, organized crime and community policing.
I work directly with young people involved in the street trade. It may surprise readers, but they are some of our most vulnerable citizens. These are young people who leave school prematurely, often from broken homes where drug addiction was widespread and with few positive role models.
Some have experienced trauma that the average person cannot imagine. They have no hope in their lives of ever becoming anything other than a drug dealer and a criminal. It's easy to look at the bravado, designer clothes, or anti-social behavior and label them as thugs. But often a wrong move – a lost drug package, a personal feud, being labeled as a "rat" – is all it takes for them to become victims of the gangs that treated them.
We are not trying to minimize the effect these young people can have on individuals and communities. Violence, intimidation and other forms of crime accompany the territory of an unregulated drug market.
There are victims of these crimes and we need to be accountable. I see incredible and passionate professionals, including youth workers and Gardaí, going above and beyond with these young people and their families to offer them support and opportunities, and show them that another way is possible.
Forgotten people
Often times, it's like trying to heal a gunshot wound with a bandage. The Greentown Report found that young people who end up committing serious offenses have problems with drugs and alcohol, family involvement in crime, problematic school engagement and ineffective parenting. Ending the ban will not be a quick fix to all of Ireland's problems and social inequalities must also be addressed.
YWAP is only too aware of the damage drugs can cause. They can affect brain development and make young people more vulnerable to drug addiction and exploitation. We believe that ending prohibition will reduce the risk to young people of drugs. A regulated market will require proof of identity, introduce quality control and provide a written record of the source of medicines.
In our YWAP meetings, we discussed many ramifications of ending Prohibition. One of the first things to consider is how to deal with mid-level dealers? They are often very intelligent and motivated individuals. It may sound drastic, but they will need to be contacted in one form or another.
Yes they can be violent, yes I disapprove of their actions but would I have done differently for them? They say, "f ** k handouts, we see a gap in the market where we can get money and status and we're going to take advantage of it."
A youth leader uses the term "entrepreneurs from their own environment" and I think that's correct. There are undoubtedly risks in ending prohibition, but what I think is not discussed enough are the ramifications of the current prohibition policy. This war is being waged all over the world with incalculable expense for public finances and people's lives, and there is no end in sight.
Ask yourself if prohibition works?
In Ireland, organized crime gangs are taking advantage of the ban by using children to store, sell and consume their goods, knowing that children will face lighter penalties under the law.
Despite ongoing enforcement and awareness campaigns, drug use and its harms continue to increase. Could anyone really argue that the drug policy in Ireland over the past 30 years has been successful? We know the harms of drugs, but if we don't also address the systemic problems caused by outdated drug laws, we will continue to fail vulnerable youth and society as a whole.
Communities that have been isolated from the impacts of drug use and prohibition cannot put their heads in the sand and pretend this is not happening. Drugs and gang violence weren't commonplace where I grew up, and if someone had told me five years ago that I would advocate for drug legalization, I would have thought they were crazy.
But my experiences on the front lines of the youth justice system have shown me that the system must change. Families and communities that were severely damaged by the drug epidemic of the 1980s and 1990s continue to grapple with the trauma suffered during this time. Young people in these communities often do not receive the same basic support as the rest of society, making them vulnerable to high-risk and antisocial behavior and exploitation. The ban then precluded appropriate support, and it continues today.
Everyone will eventually be exposed to drugs, whether it's at college, at a festival, or at a work party. Young people have grown too old for drug education and "say no" and fear mongering have failed to keep children and communities safe.
Other
Youth workers need to educate communities about the dangers of drugs and harm reduction, so that when the time comes, if people choose to take drugs, they can do so in the safest way possible.
As we call for an end to the ban on all drugs, the timing and means of regulation will vary by substance. Cannabis, heroin and cocaine will all need to be regulated and distributed differently.
Any significant policy change must be accompanied by thoughtful engagement and dialogue. The Citizens' Assembly has been an extremely useful means of analyzing whether the current approach to an issue is working for Irish society.
#open journalism
No news is bad news
Support the journal
Your contributions will help us continue to deliver the stories that are important to you
Support us now
Given the impact of current drug policy on the lives of so many in our communities, reform should be on the agenda of the next Citizens' Assembly and politicians should step up and voice their opinions on this issue.
We have been told that we are facing an uphill battle with this campaign. I agree. We are ready for it.
Eoin Lynagh is a youth justice worker and member of Youth Workers Against Prohibition.