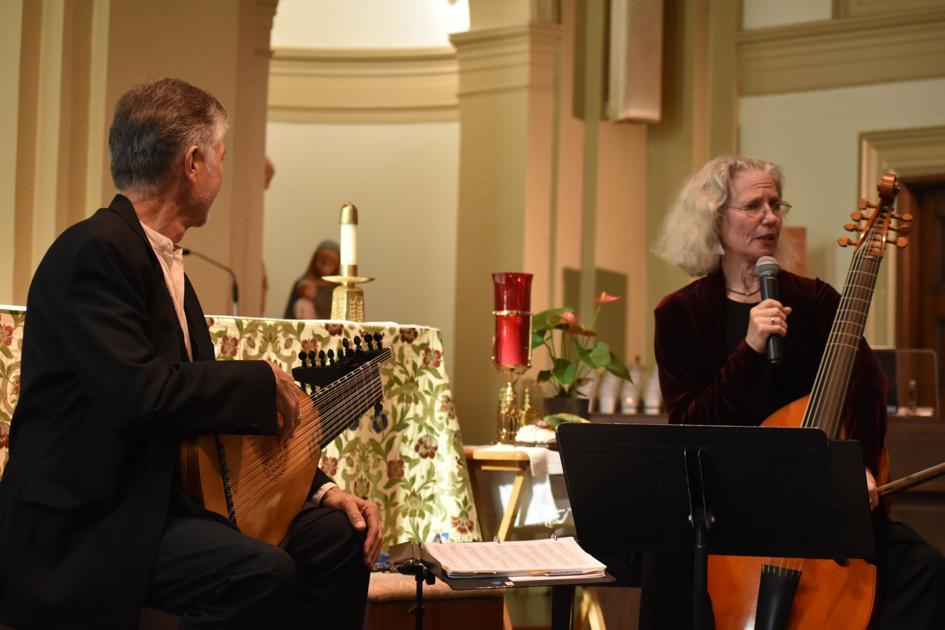 The 40th Season of the Fairmont Chamber Music Society opens amid pandemic caution | New
FAIRMONT – Chamber music is back in the city center.
On Sunday afternoon, Saint Peter the Fisherman Catholic Church was filled with music, as the Fairmont Chamber Music Society held its first of four concerts to kick off its 40th season.
Last season was canceled due to concerns over the COVID-19 pandemic. At the gate on Sunday, spectators were asked to provide proof of vaccination and were asked to wear masks throughout the performance.
Although the number of COVID cases is higher than during the summer, the Company is determined to continue this year's season.
The music society was not alone in struggling throughout the pandemic. Sunday performers Ronn McFarlane and Carolyn Surrick have been stuck with virtual gigs and home performances for the past year or so.
McFarlane said human connection just isn't the same through a computer screen.
"Feel that human connection, feel the pleasure of the audience [Sunday] was just great, "he said." Audiences are so important to the musician – they change the way we play and the way we feel when we play music. "
McFarlane is a master of the lute, a Renaissance instrument and predecessor of the guitar. He is a nationally and internationally renowned musician.
His performance partner, Surrick, plays the viola da gamba – a seven-string instrument similar to a cello. She is from Annapolis, MD, and is just as proficient in her instrument as McFarlane. She described the viola da gamba as resembling the human voice.
"This instrument really has the ability to sing," she said. "It was part of its very origin. I want everyone to be able to hear everything except the words."
McFarlane and Surrick had met to perform together in a band that Surrick had organized but the concerts were canceled due to the pandemic. Over the past year, the two have met and played every week.
During the concert, Surrick reflected on their meeting as something of fate, which is reflected in the history of their instruments.
The lute and the viola da gamba both belong to the same musical era and are frequently found in arrangements together, but are hardly ever found paired as a duet.
Sunday's concert showed the diversity and breadth of the two performers and their instruments. The duo performed classical styles, folk tunes, original music and traditional hymns.
McFarlane recalled what made him fall in love with the lute was the way it was historically performed in everything from folk style to popular music to classical music.
"It kind of combined what I liked about classical music with what I liked about rock and folk guitar," he said. "As proof today, I was able to play at the same time some of the highest art music of the Renaissance, I was able to play folk tunes. "
For both artists, coming to West Virginia was a positive experience. Surrick, who lives near several major cities in Maryland, said coming here and spending time with friends in Paw Paw was a change of pace.
"[Where I live] It's a very rural feeling, but it never gets dark and I can still hear the highway, "she said. "Last night in Paw Paw it was dark, it was calm and it was just wonderful.
McFarlane grew up in Clarksburg and was happy to be able to do some kind of homecoming in north central West Virginia.
"I have spent so much time here growing up," he said. "I really feel a connection with people."
The next Fairmont Chamber Music Society concert will take place on November 14 at Saint Peter the Fisherman. The Schumann Ensemble, a trio of piano, oboe and viola, will perform.
Company President Brenda Giannis is excited to bring music back to the Fairmont.
"Music like this is important to take anywhere… it just does something for your soul," Giannis said. "We are probably the only city of this size that brings this caliber of chamber music."
In the perspective of the new year, in February 2022, the company will bring in Corina Marti, harpsichordist. March 2022 will feature Trio Confero, a piano, clarinet and cello trio.
For ticket prices and concert updates, visit the company's Facebook page or website at www.fairmontchambermusic.com.